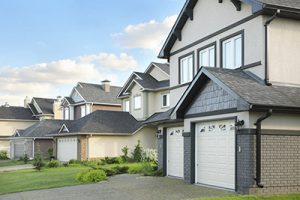 It's time for garage door replacement and you are excited and a bit nervous at the same time. Use this short guide to weigh the pros and cons of the most common types of doors and to compare them against one another. This will take the stress away and make you confident about your purchase.
Why Steel Doors Are So Popular
These units are made from galvanized steel which is resistant to corrosion and usually come painted or clad with composite material directly from the manufacturer. They are the most widely used garage doors because of their strength, durability and reasonable pricing. Besides, there are multiple structural, insulation and style options with them. How about downsides? The panels are at risk of denting, and road salts and harsh chemical cleaners may damage the protective galvanized coating.
The Beauty and Requirements of Wood Units
This material is gorgeous and quite strong too. You can choose from the likes of cedar, fir and redwood and numerous styles and designs. Insulation is also an option. At the same time, wood overhead doors are the most expensive of all. Furthermore, they require more careful maintenance, which includes annual repainting.
The Sleek Aluminum Overhead Doors
These units have an aluminum frame and can come with aluminum, glass or acrylic panels. You can choose between various color and tint options respectively. This metal is light and extremely strong at the same time. It has natural protection from corrosion too. As result, aluminum doors require minimal maintenance. Their only downside is the higher risk of denting. Additionally, the major manufacturers currently don't add insulation to their aluminum models.
Will a Vinyl Unit Match Your Needs?
These doors have a steel frame and vinyl panels. They can come with polyurethane or polystyrene insulation, but it's best if you check their R-values specifically as they don't tend to be very high. The major advantage of vinyl doors is that they are highly resistant to all kinds of damage and extremely easy to maintain. There are fewer color and design options with them and this is something important to keep in mind when it comes to new garage door installation.
Fiberglass Doors and Their Functionality
These have similar construction to their vinyl counterparts – a steel frame with two layers of fiberglass. There is often insulation between the outer layers. Fiberglass is resistant to moisture damage, dents and cracks. However, it is not as highly resistant to strong impact as metal. That is why manufacturers often use steel end caps to make it more rigid. In addition to having great durability, fiberglass overhead doors are very easy to maintain so you can expect to save a great deal of time. When it comes to aesthetics, they usually have fewer customization options, especially when it comes to color.
Are you ready to make a choice? To pick the ideal new garage door for you, consider major factors like strength, durability and maintenance requirements. Decide how important insulation is for you. You should also outline your preferences regarding style and color. Unless you also plan opener replacement, you must ensure that the new door will not be too heavy for the electric operator to handle.
Recent Posts
Archives
Categories
Meta