We all know that as spring is a time for new beginnings and fresh starts, and the same can be said for your garage!
The harsh elements of winter's weather may have damaged the look of your garage door and it's time for a makeover.
We'll show you how to get your garage in tip-top shape for the warmer weather!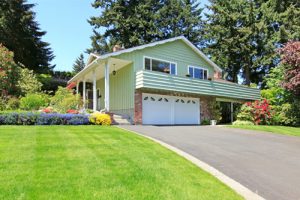 Out with the old
Just like cleaning out your closet, spring offers the perfect time to clear out your garage. This may mean throwing some items away, or simply reorganizing everything.
Storage containers are absolutely essential in keeping a space neat and tidy. You could get some plain color storage bins and pack them neatly against one wall of your garage. It's also a good idea to place a laminated sheet of paper on the front of the bin for you to write what it contains. This will save you the trouble of going through each box for decorations come Halloween or Christmas!
Items that you know you'll be using quite a lot, such as bicycles, lawn mowers and tools should be moved to the front of the space as they will be easier to get to.
Put the clean into spring clean
We all know that when the weather starts heating up, it's time to get the house clean! However, we shouldn't forget about our garage or more specifically, our garage doors.
You may think that the rain has washed it clean but that's not the case. You need to thoroughly clean both the interior and exterior of your door. In doing so, you'll also be able to check if any visible damage was caused by Mother Nature. It's a good idea to clean the door's tracks too to make sure there's no debris stuck in it. Don't forget about your opener!
While we're in the spirit of cleaning, let's take a look at the floor. It may appear clean but it's still a good idea to give it a power wash to get rid of any unseen dirt and grime.
Perfectly painted
Paint is not just for aesthetics, it will help to protect your garage door against any weather damage.
You'll need to inspect the door for any rust and, depending on the severity, sand it off. You can then apply a rust inhibiting primer to ensure that it doesn't appear again.
Then, you need to completely prime the door before you paint it. The type of primer and paint you use will depend on what material your door is made of. Once the door is dry, you can paint! Waterproof paints are great as it means your door will be protected against those surprise spring and summer rainy days.
It's a good idea to start early in the morning so that the door has the whole day to dry.
Finally, call in the professionals
It's extremely important to have your automated garage door serviced at least once a year, and spring is the perfect time to do it! Now that winter is over, you're probably itching to get started on some home DIY projects and the garage will most likely be your main working space. You'll also be enjoying the outdoors more and will therefore be using your garage more often as you drive off on your daily adventures. Now is the perfect time to get your door working at 100%!
So, give your home and instant makeover with a fresh door and a clean and organized garage!
Recent Posts
Archives
Categories
Meta